For Reservations
Call: 817-831-9100
Or Book Online


"A real little jewel!
The room was very clean and the staff was pleasant."

- CanadianVisitor
Texas Motor Speedway Special
Come experience the excitement and the thrills of a NASCAR race at the Texas Motor Speedway (TMS). Texas Motor Speedway features NASCAR superstars Dale Earnhardt Jr., Tony Stewart and Jeff Gordon, Indianapolis 500 winner Sam Hornish Jr., Danica Patrick and many, many more. NASCAR's three national series – NEXTEL Cup, Busch and Craftsman Truck – will each make two appearances each year , while the Indy Racing League IndyCar Series® and the Crown Royal International Race of Champions events round out the action-packed season of racing.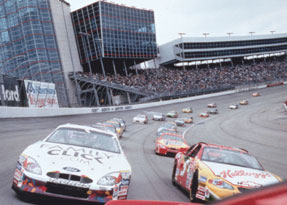 This package Includes:
Deluxe Accomodations:
- $99.99 - King
- $109.99 - 2 Double Beds - $119.99 - Jacuzzi Suite
Complimentary bottle of Champagne with Jacuzzi Suite
Early Check-in (based on availability)
Call us @ 817-831-9100 to book this special!!!
* Subject to availability. Rates are subject to change without notice. * 14 day cancellation policy
2006 Racing Events
Nov 2 & 3- NASCAR Qualifying Days NASCAR Craftsman Truck, Busch, and NEXTEL Cup Series
Nov 3 - Silverado 350k NASCAR Craftsman Truck Series
Nov 4 - O'Reilly Challenge NASCAR Busch Series
Nov 5 - Dickies 500 NASCAR NEXTEL Cup Series
2007 Racing Events
April 12 & 13 The Dallas Morning News Qualifying Days NASCAR Busch and NEXTEL Cup Series
April 13 - Crown Royal International Race of Champions
April 14 - O'Reilly 300 NASCAR Busch Series
April 15 - RadioShack 500 NASCAR NEXTEL Cup Series
June 7 - Qualifying NASCAR Craftsman Truck Series / IRL IndyCar Series
June 8 – Sam's Town 400k NASCAR Craftsman Truck Series
June 9 - Bombardier Learjet 500k Indy Racing League IndyCar Series
Nov 1 & 2- NASCAR Qualifying Days NASCAR Craftsman Truck, Busch, and NEXTEL Cup Series
Nov 2 - Silverado 350k NASCAR Craftsman Truck Series
Nov 3 - O'Reilly Challenge NASCAR Busch Series
Nov 4 - Dickies 500 NASCAR NEXTEL Cup Series
Specials & Packages: